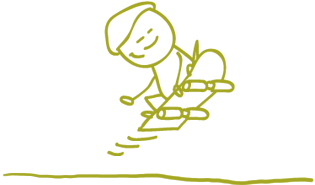 Recognition and eye catcher. Your logo should create the connection immediately.
Create consistency in your graphic design solutions.

Read about targeted solutions in the form of websites, Intranet, Extranet, E-shop, and business-oriented webapplications.

When reaching its full potential, webdesign is without a doubt the most sophisticated and continously complex form of visual communication.
All right, you could say that webdesign is a sort of graphic design, that needs to present a number of elements in a website - webdesign is not programming, but enhances the functional features in a website as well as it creates a visual expression. Webdesign mixes several disciplines in information systems, technology and communications design, and as such it touches aspects as content, usability, looks and visibility alike.
Of course your webdesign needs to be in line with the graphic profile of your company, your logo design and offline design. But please also bare in mind that potentially your web solution can do so much more than just be your online profile brochure. Contrary to your offline design, webdesign offers you a number of totally different possibilities for interaction with your clients and users - as well as enabling you to paint a much more varied image of your organisation.
When you work with WebHouse on your webdesign, we start by looking at your wants and needs, and then contribute with our suggestions and ideas for the solution. You and your organsation can benefit greatly from our knowledge and expertise in this area, and you will get a webdesign that creates added value for your business as well as your clients and users.
Contact us and let's talk about your next webdesign!