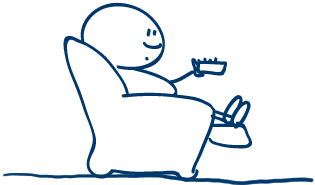 Create added value using great applications - and if the specific functionality doesn't exist, we'd be happy to build it
Your business will gain most benefits from its web solution investments when choosing a stable and solid partner.
Our process is the glue that ensures your project's success - we call our process "Triple E"
Brands are built on valuable experiences - and we can help you design your company's website as well as the entire graphic profile.
Operation and hosting of your web solution is an important choice ... that's why we do it properly


WebHouse started out in Bente's beautiful old villa in Hasseris, Aalborg in November 1995, and today we're the first as well as the oldest web bureau in Denmark.
The company, which is owned by Bente, Christian and Mikkel was established June 30th, 1998.
As you can see from this page in the Internet archives, the ambitions back then were set on creating an international business in "Internet Marketing & Design". And actually, we're still doing the same job today, years down the road - for Danish and international businesses and organisations alike.
Design and tehcnical stanrdards have however moved forwards at what seems like the speed of light, compared to the simple HTML we did back then.
No more than six months after the business start up, we went to Paris, France, to receive an EC award for "Best website" in the category Small to Medium sized businesses - the award was given for a quite advanced website for Århus Havn (who still, buy the way, is a client).
The prize-giving received good media coverage, and clients started to turn up on our doorstep - and today we're still adding new and interesting clients and partnerships to the family, we in the company and among our clients consider us to be.
WebHouse continues to grow. With more than 300 international clients in our portfolio, and with loyal and steady staff members, WebHouse is a company well suited for the new and exciting challenges the Internet and social media provides us with.
We'll be happy to hear from you!