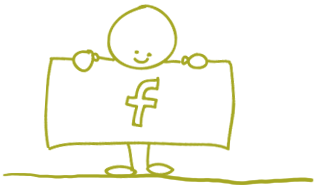 WebHouse is developing iPad Applications for the Enterprise in the fields of CMS, ERP, CRM, and Business Intelligence.
Put you business in your pocket and bring it 'round the world in your iPhone

Read about targeted solutions in the form of websites, Intranet, Extranet, E-shop, and business-oriented webapplications.

Social media - and in particular Facebook and Twitter - are no longer just a couple of successfull social services, but lean more towards global social phenomena as well as being trendsetting in the openness web 2.0 stands for.
Facebook has had an enormous growth in number of users, fan pages and Facebook applicationa, and there are as of today more than 400 millions users on Facebook (with millions added every week, it seems). On average, each member uses Facebook approx. 55 minutes a day.
This makes Facebook a very interesting marketing media for businesses, that by using either targeted Facebook ads, fan pages or applications can reach the many users.
How can your business benefit from the Facebook potential and create growth or better service towards clients?
At WebHouse we believe that a number of the following elements can create added value for your business too:
The possibility to create openness about products and services, and thus increase the value of your product
Attract new clients using a Facebook page or a Facebook application
Service and Help Desk application
Queastionnaires and polls
Marketing campaigns
E-shops
A Facebook application can be a great supplement for your website. To make everything much easier for our ODEUM CMS clients, WebHouse has developed a Facebook applications module enabling you to maintain and update your Facebook application directly from ODEUM CMS. You can even use several of the ODEUM CMS module directly in a Facebook application. It's as easy as it gets!
Get in touch with WebHouse for a chat about how a Facebook application can create added value for your business.
If you would like to take a further look at the options before talking to us, we suggest you like our Facebook page and follow us there.